Welcome to Markart
Mark's art expertise includes caricatures, cartoons, graphic art, graphic designs, illustrations, drawings and paintings.
The art of Mark Rhodes; winning cartoonist in the Political category of the 23rd Rotary National Cartoon Awards.
If you'd like to see and read more about the award winning cartoon {Click here}
and runner-up in the special category of the 29th Rotary National Cartoon Awards... {Click here}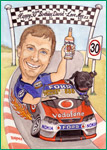 See your partner, family, friend or business colleague grin from ear to ear as they discover themselves depicted in this humorous artform.
Markart Caricatures make unique gifts for birthdays, weddings, anniversaries, milestones, retirement and many other special occasions.
[More caricature information]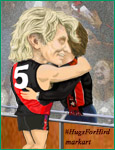 Markart cartoons can enhance your publications and attract repeat readership.
"A picture paints a thousand words."
Markart cartoons add perspective!
Commission markart to translate your words into a visual message via the [Contact page].


Stand out from the crowd with a unique markart design for your business, sports club or social club merchandise; T-shirts, Tour-shirts, Team-Shirts, tank-tops, stubby-holders, caps, Business logos, business card designs, photo editing, avatars and more.

Markart provides a friendly service determined to turn your basic ideas or stick figure diagrams into unique attention grabbing art and designs.