Caricature categories and Price guide
A caricature is a pictorial representation that exaggerates characteristic traits of a person for comic effect.
Caricatures can be portrayed in many forms including pencil, ink or watercolour paint on quality paper to acrylic or oil paintings on canvas... The three main Markart gift caricature categories are Economy, Classic and Premium.
Pricing varies according to category, size and complexity (the level of detail you want); hence the need to request a quote for your desired artwork.
Complexity can vary from one person's head & shoulders to multiple people with numerous extras (or props).
Props can include; occupational accessories, pets, cars or other vehicles, boats, fishing gear, sporting gear, etc.

An Economy category caricature consists of black ink or permanent marker on illustration board (thick card paper).
- The base price for an A4 size single person caricature with and a few basic props is $65.
- Base price for size A3 is $95... Plus packaging & postage (p&p) costs.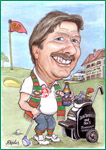 A Classic caricature is drawn with waterproof ink and coloured with watercolour &/or gouache paint on 300gsm artist quality watercolour paper.
Pricing starts at $135 for size A4 or from $195 for size A3... plus p&p.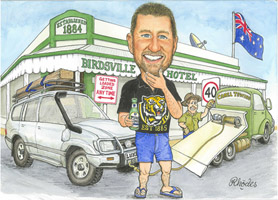 A Premium caricature is painted with acrylic paint on either canvas board or canvas (your choice of course):
From $195 for size A4... plus p&p
From $295 for size A3... plus p&p.
Go to the portfolio page to see some sample caricature artwork.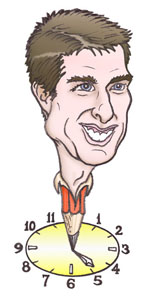 Information and Photo
requirements for order
In order for the artist to be able to draw or paint a caricature accurately it is important that you provide fairly clear photos of your subject, preferably at a similar angle to how you would like the person to be depicted. For example, the figure at left is looking in a 5 o'clock direction. Caricatures can be drawn between angles from 3 to 9 o'clock but angles between 5 and 7 o'clock usually give the best results.
You might like to include some items or props such as sport equipment, pet, uniform, occupational accessories, favourite clothing, drink, car, motorbike, boat, etc.
Simple props such as favourite team scarf or clothing will be included free but complex additions such as vehicles or boats will incur an additional cost.
Your ideas and suggestions are welcome; click here >